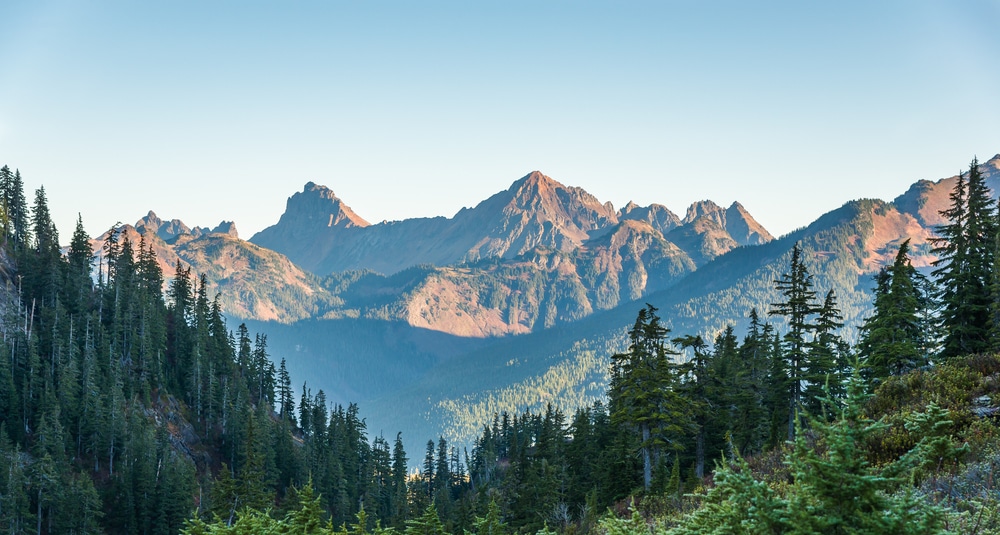 Artist Point at Mt. Baker has arguably one of the best vantage points in all of Washington State! And that is a top honor considering all the Mt. Baker-Snoqualmie National Forest offers. There is no shortage of idyllic Northwest beauty here, from snow-capped mountain views and rushing waterfalls to incredible emerald-green forests and pristine lakes. This viewpoint showcases the best of the best!
During the summer, Artist Point at Mt. Baker is easily accessed, so there's no reason not to add this stop to your day hiking the trails on your bucket list. The route leads across Kushan Ridge in the Mt. Baker-Snoqualmie National Forest—with picture-perfect views of Mount Shuksann and Mount Baker. It's also a great jumping-off point to various trails that weave through the gorgeous landscape here.
Before you start filling your itinerary with the best hikes near Bellingham, you'll want to secure your lodging. Our mini-resort and Bellingham Bed and Breakfast offers an array of accommodations from two elegant B&B suites, a private cottage, or our luxury glamping lodge (one of the best places for glamping in Washington State!) All guests can access our year-round pool and hot tub area (the glamping lodge has its own hot tub). It's the best place to retreat after hiking in the Northwest. Reserve your lodging for summer today!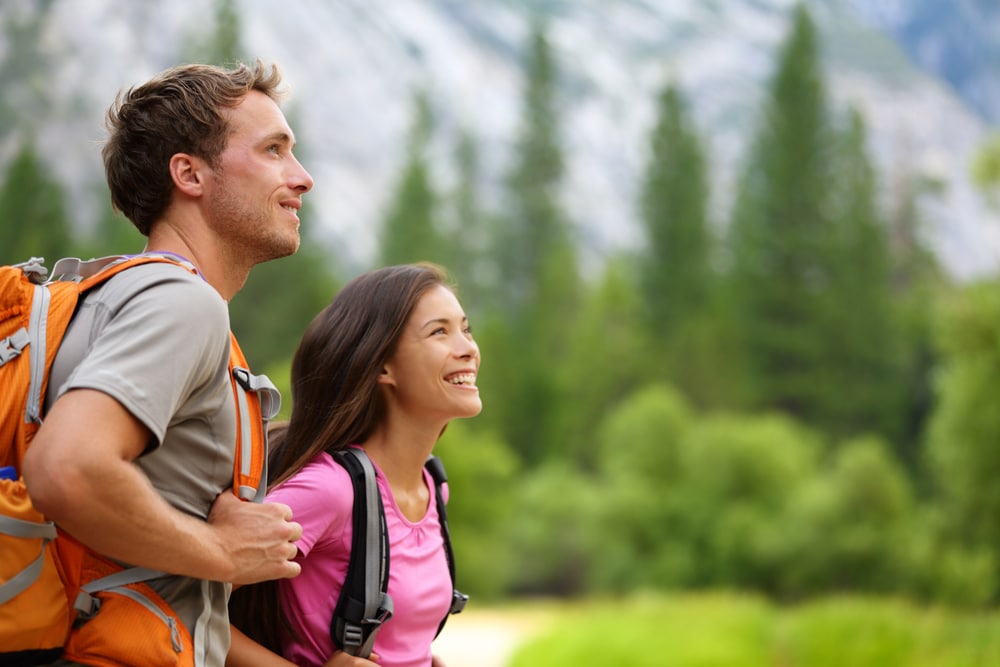 Artist Point at Mt. Baker & More Fantastic Hikes
Hiking is, by far, one of the most popular pastimes in our neck of the woods near Bellingham. And Artist Point at Mt. Baker has become a major starting destination for hikers of all skill-level and experiences. It really is a must-see when visiting the area and is known as one of the most beautiful places you can see by car in the summer months.
Here are a few things to know about Artist Point at Mt. Baker:
To get to Artist Point at Mt. Baker from our Bellingham Bed and Breakfast, you'll take the Mount Baker Scenic Byway to Glacier, WA. This 58-mile route runs from Bellingham to the end of this winding road, where you'll reach Artist Point at the very end.
Artist Point typically opens in July and remains open until the first substantial snowfall, usually in late September or early October. At this point, it's a top-rated snowshoeing destination. Avid hikers and snowshoers claim the deep cover of powdery white makes the 3-mile trek even more magical (be aware of ski areas).
Artist Point at Mt. Baker provides access to some of the most incredible hiking trails in Washington State!
More Great Mt. Baker Hikes for Summer:
Once you've taken in the view from the parking area at Artist Point at Mt. Baker, you'll be in the perfect place to find another trail that weaves through the gorgeous Mt. Baker-Snoqualmie National Forest: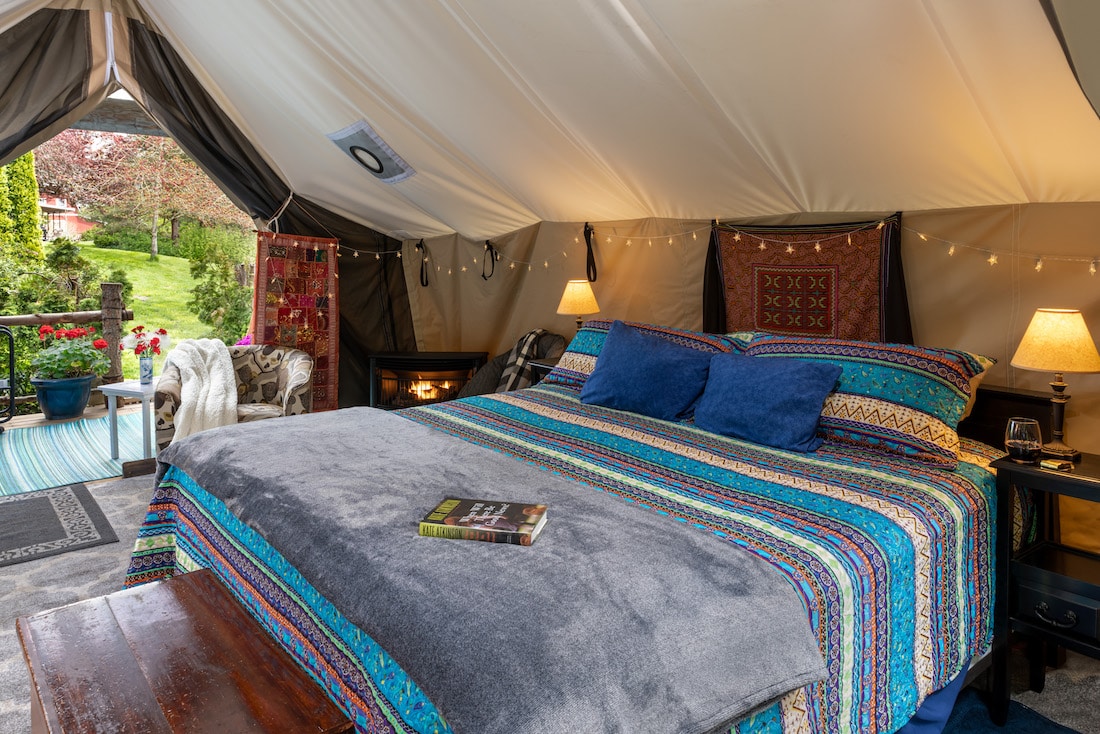 Best Place for Glamping in Washington
For those who long to sleep in the fresh air but the idea of sleeping in a tent makes your back ache, glamping in Washington is for you! Our newly constructed glamping lodge at our Bellingham Bed and Breakfast is pure luxury in the woods. You'll glamp in style with complete privacy at our secluded oasis, surrounded by lush woods and meadows. The evenings are peaceful and quiet with just the sound of the wind in the trees, and mornings are equally calming with stunning sunsets.
If you're not ready for glamping in Washington, we also offer two jewel box B&B suites and a private three-bedroom cottage rental. All guests have access to our spectacular indoor pool area, and you'll often feel like you have the space all to yourself. The fire pit is also one of the best places to relax—always stocked with firewood, ingredients for s'mores, and an open dark sky for stargazing. Whichever lodging accommodation you choose, our location is ideal for exploring Artist Point at Mt. Baker and more hikes in the Mt. Baker-Snoqualmie National Forest, downtown Bellingham, and much more.
As a guest in our glamping lodge and private cottage, you'll have a full kitchen to prepare your meals just how you like them. If you decide to book one of our Bellingham Bed and Breakfast Suites, we'll treat you to a wonderful, home-cooked breakfast with local, farm-fresh ingredients each morning of your stay. Whichever accommodation best fits your needs, we can't wait to host you; reserve your lodging today!