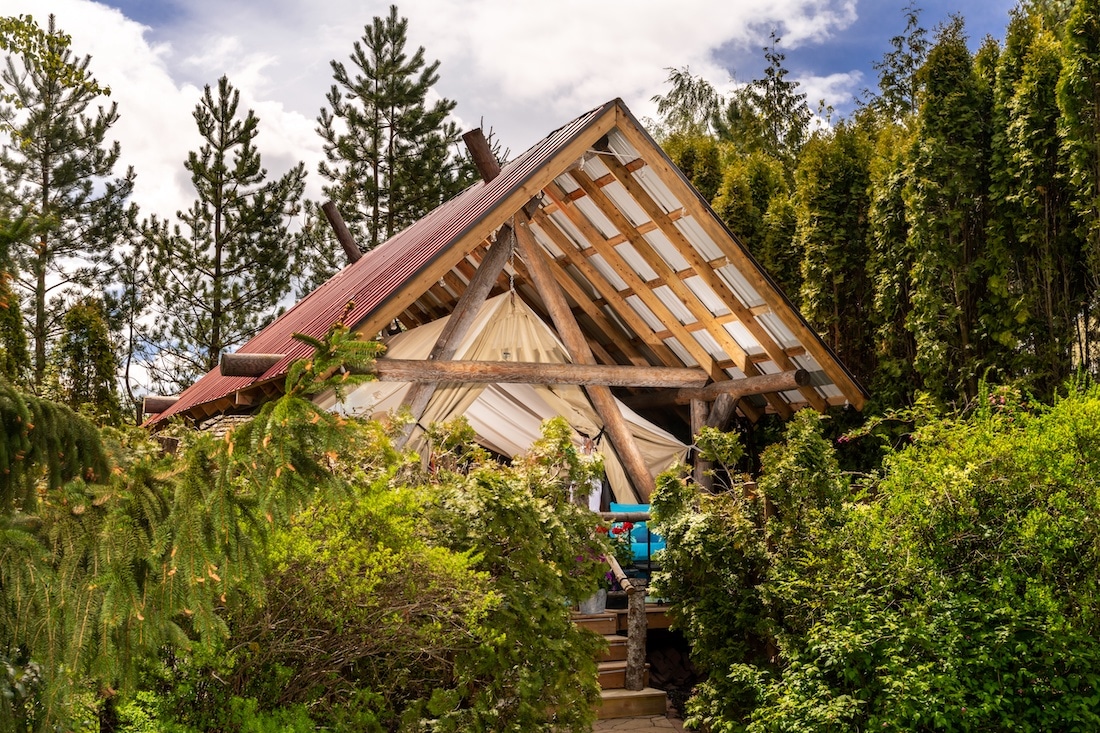 For those who long to sleep under the stars, but the idea of traditional camping sounds uncomfortable, then glamping in Washington is for you! And thankfully, our brand new safari tent at Sundara West is ready for visitors. You'll glamp in style with complete privacy at our secluded oasis near Bellingham in the open air, surrounded by lush woods and meadows. The evenings are peaceful and quiet with just the sound of the distant train and the wind in the trees, and mornings are equally serene with cooing doves and stunning sunrises.
If you're not quite ready for glamping in Washington, we also offer two jewel box B&B suites and a private three-bedroom cottage rental. All guests have access to our spectacular indoor pool area by reservation, so you'll have the space all to yourself. The fire pit is also one of the best places to unwind—always stocked with firewood, s'mores fixings, and views of the starry sky. Whichever lodging accommodation you choose, our location is ideal for exploring the Mt. Baker-Snoqualmie National Forest, downtown Bellingham, and much more.
Be one of the first guests to enjoy our brand new Glamping Lodge, and head to our booking calendar today!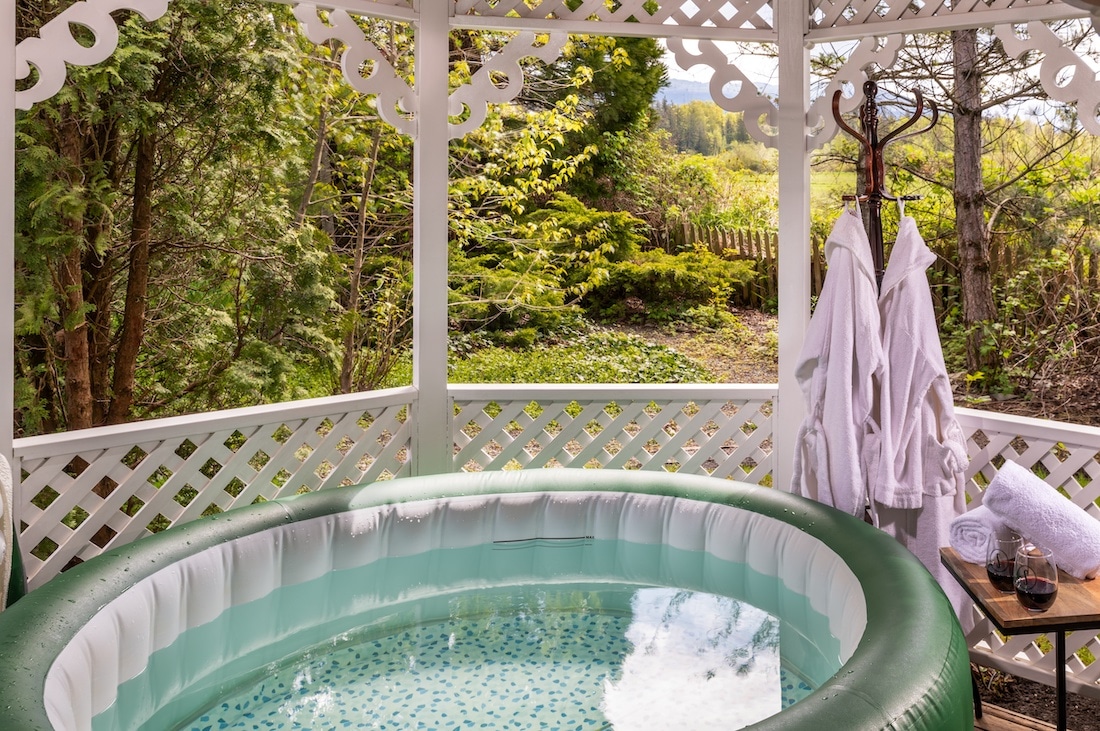 The Best Glamping in Washington
A stay at our new Glamping Lodge at Sundara West in the beautiful, tranquil Northwest countryside is as relaxing as they come. You'll have complete privacy and feel secluded in your wooded plot. Glamping in Washington has never been better!
Here's everything you need to know before you book your next glamping in Washington adventure:
Wake up refreshed after a night in the king bed with plenty of cozy blankets and comfy sheets. Arise early with the roosters and enjoy your morning coffee with the spectacular sunrise backdrop over Mt. Baker. We also provide a complimentary continental breakfast which may include muffins, breakfast cookies, locally made pastries, juice, fruit, and yogurt.
Spend your days relaxing in the private hot tub gazebo off the back of our Glamping Lodge with picturesque wooden views. Plush robes are provided. Those staying in the tent will use the pool bathroom (with shower) only 40 steps away, using the pool house entrance thru the back.
As for your culinary options, there is a mini kitchen with running water, a small fridge, microwave, and coffee maker (with coffee, sugar, and creamers included). The large deck has a gas grill with all the barbeque utensils needed and cast iron pots. You'll find all the necessary tableware and glassware, as well as a perfect table and chairs for enjoying your meal. For those who prefer to eat out, there are plenty of fantastic restaurants within a half-hour of our property.
Glamping in Washington wouldn't be complete without a cozy fireplace—the lodge has a gas log fireplace for cuddling up with a glass of wine (we provide a complimentary bottle of wine in the evenings) or hot cocoa. The lodge has an electric fan and heater, a heated mattress pad, and plush throws for particularly chilly nights.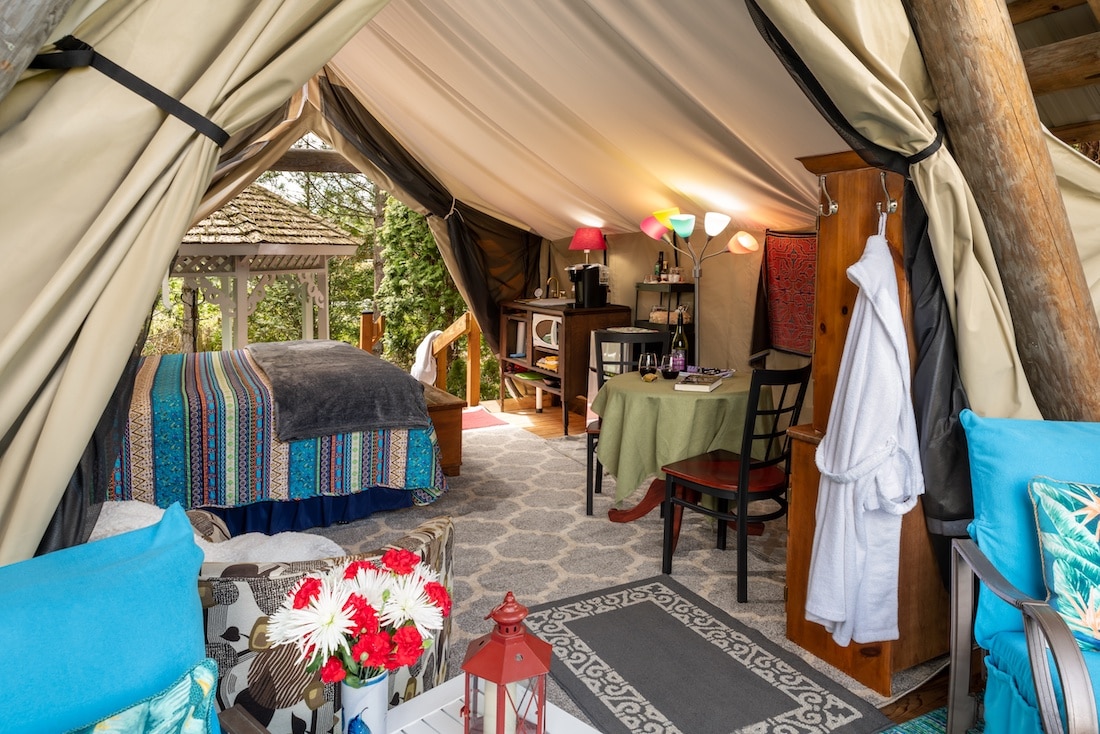 A Memorable Family Getaway to the Woods
If you're traveling with your family and hope to get the complete glamping experience, we have two sleeping mats and bags for the little ones. The kiddos will love the outdoor play structure, just steps from the Glamping Lodge, and swim their hearts out at the indoor pool (open year-round.) An evening spent making s'mores around the fire pit is one of the best ways for families to bond and create forever memories. Who knows? Glamping in Washington could become a yearly tradition.
We also welcome well-behaved dogs (up to two) for a small fee, so you won't have to leave your four-legged friends at home! Glamping in Washington is even better with our furry companions by our side. Head over to our calendar and get your reservation on the books today!