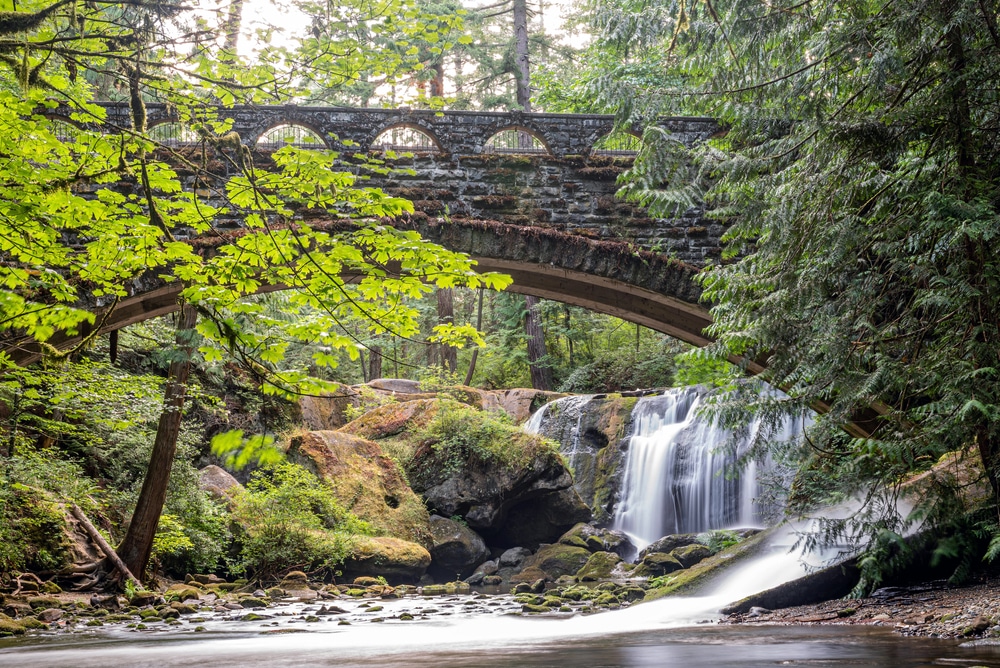 Whatcom Falls Park is a must-see destination when visiting the Bellingham area! This unique place is located just east of downtown so is in close proximity to other attractions you may want to see after spending a few hours here. Best known for its namesake waterfall, Whatcom Falls Park encompasses 241 acres of natural forest preserve. The falls are on Whatcom Creek that leads from Lake Whatcom to Bellingham Bay. There is much to discover here as you wander the trails through a serene forest of Douglas fir, western hemlock, western redcedar, and bigleaf maple trees.
Let our Bellingham bed and breakfast be your perfect getaway this season! Our lodging is the closest luxury accommodations to the Mt. Baker-Snoqualmie National Forest and is located close to all of the incredible things to see in the Bellingham area like Whatcom Falls Park. You'll wake refreshed and ready for adventure at our Washington inn. From our beautifully appointed rooms and amenities to our hearty breakfasts we serve guests, you'll feel well taken care of at our romantic bed and breakfast. If you want the best home away from home while you are on your Bellingham vacation, book your room today!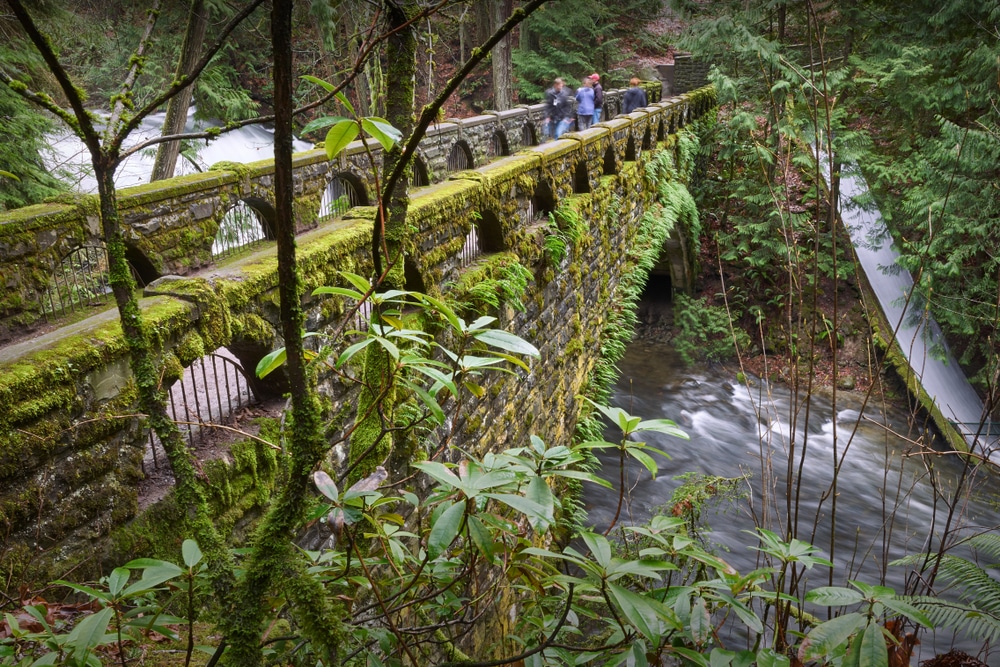 Reasons to Visit Whatcom Falls Park
The unique town of Bellingham offers many opportunities to get outside and explore natural areas. There are many forested city parks that highlight the beauty of the region. In just minutes you can go from the hustle and bustle of downtown to a tranquil forest hearing only the sounds of birds, the wind, and the rushing water from a creek. Nowhere else in Bellingham can you experience this better than at Whatcom Falls Park.
This historic park has been a popular retreat since the 1890s when it was known as the "picnic ground". In the 1930s the government purchased the current acreage and it became a project of the Works Progress Administration (WPA). Today it is a popular spot to wander, swim, and relax. There is much to explore in this beautiful oasis. From historical structures to hiking trails in and around the park. Here are our favorite reasons why you should check out Whatcom Falls Park!
The main attraction is, of course, the not-to-be-missed waterfall of Whatcom Falls Park. It is accessible via a short path from the parking lot or take the 4 mile Whatcom Creek Trail Loop that is great for walking, running, and birdwatching. The impressive falls are a 20-foot drop that can get up to 40 feet wide during the rainier months.
This spot is popular amongst photographers and swimmers in the summer and features a picturesque stone bridge built by the WPA in 1939. It was constructed from salvaged sandstone that once formed the arches of a building in downtown Bellingham.
 Whatcom Falls are not the only waterfalls here! In west Whatcom Falls Park just north of the Waterline Bridge, there is the Whirlpool Falls, that consist of 8-foot cascades surrounded by 20-foot cliffs and feature a deep pool for divers to jump into. You can walk another 0.3 miles downstream past Whatcom Falls to get here or you can walk the Whirlpool Loop Trail.
East Whatcom Falls Park is home to the park's facilities such as restrooms, picnic shelters, and tennis courts. Here you will also find a fish hatchery and Derby Pond if you walk north along Whatcom Creek. Look for ducks and other birds around the peaceful pond.
Over the creek north of Derby Pond you will discover a towering abandoned railroad trestle that was built in 1916. This trestle was once the link between a mill on Lake Whatcom and Bellingham Bay. Timber was floated to the mill and transferred by train to the bay.
If you keep walking further north from the railroad trestle you can cross the road at Electric Avenue to Bloedel Donovan Park. Here you can relax in the sun at the beach on Lake Whatcom. Bring lunch and enjoy at one of the many picnic tables here.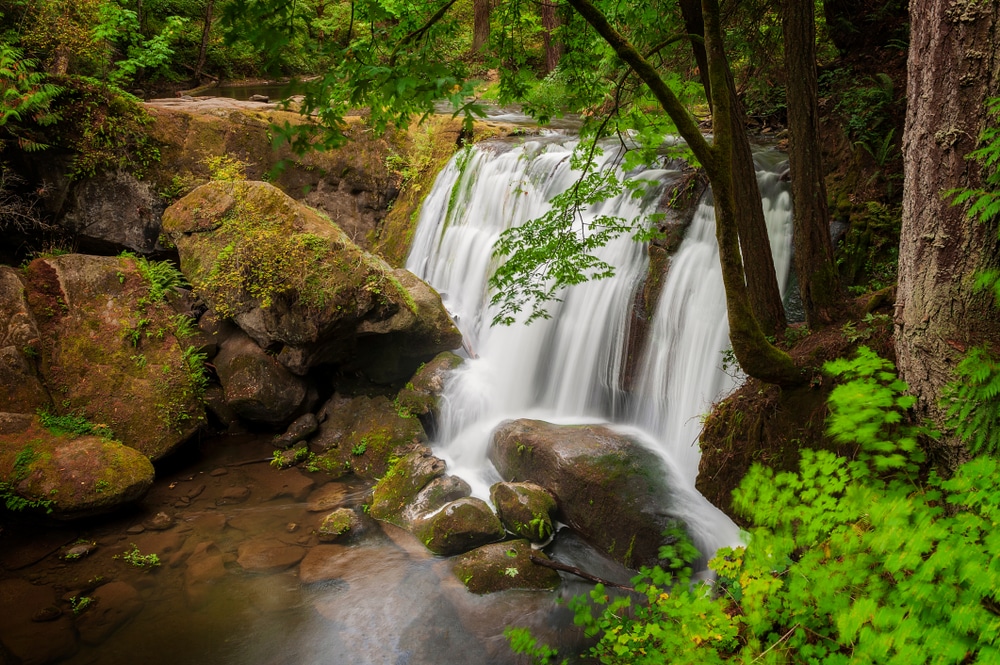 The Best Lodging Near Bellingham
At our Bellingham bed and breakfast, we have your ultimate comfort in mind. At the end of a day of exploration, you'll have peace of mind knowing that you are coming back to a cozy, comfortable, and quiet place to stay.  At our luxury inn, you can unwind, relax, and rest up for your next adventure.
Our beautiful and homey guest rooms are just the place you need to rejuvenate. You'll get a great night's sleep in your bed fitted with 500 ct linens. Slip into your plush guest robe for ultimate comfort at the end of the day. Enjoy your en-suite private bath with organic bath amenities. Get fueled up for the day with a home-cooked breakfast. At our Bellingham lodging, your comfort is our priority. We welcome you to our luxurious bed and breakfast. If you are looking for the perfect escape to Bellingham this season, book your stay with us today!