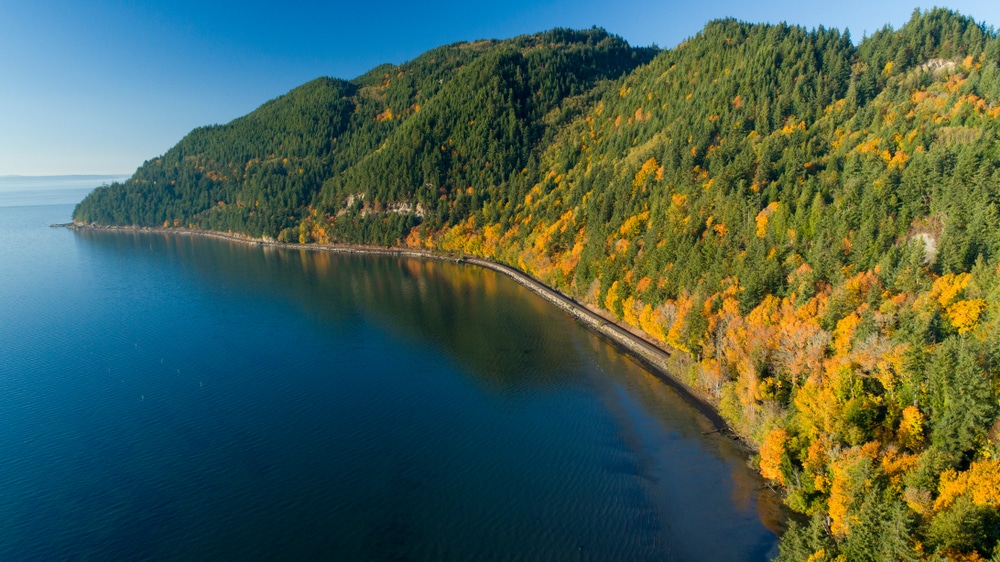 Chuckanut Drive, also known as Washington State's original scenic byway, is such a lovely way to take in the picturesque sights in this beautiful corner of the Northwest. The route begins in Burlington at exit 231 off Interstate 5. The 21-mile drive weaves through forests, skirting the edge of Samish Bay, and maneuvers the cliffs and curves of Chuckanut Mountain. Throughout the scenic Chuckanut Drive, you'll pass by outlooks, state parks, and excellent seafood-focused restaurants for lunch, happy hour, or dinner.
At our Bellingham Bed and Breakfast, we always suggest that our guests explore Chuckanut Drive during their stay—or better yet, make this your route on your way to our B&B. It's one of the best ways to take in the stunning scenery, with views of the San Juan Islands, and enjoy a fresh seafood feast before checking into your jewel box suite, cottage rental, or glamping lodge at our resort.
Start planning your getaway to Washington State and book our Bellingham Bed and Breakfast today!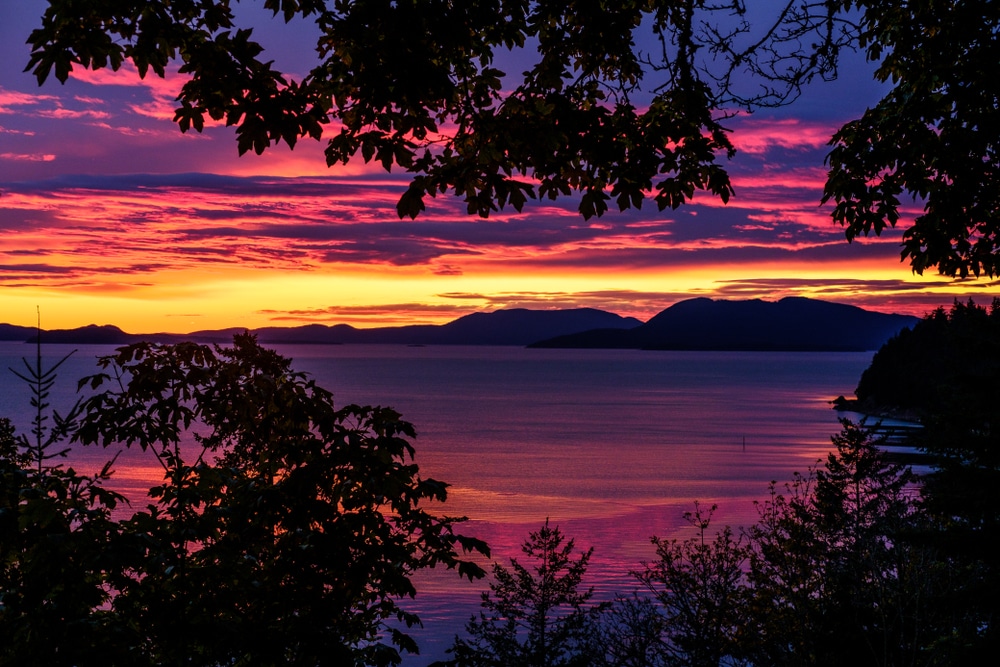 Washington State's Scenic Byway: Chuckanut Drive
For those driving up from the Southern end of the state, take exit 231 from I-5 onto Chuckanut Drive. Since check-in time at our Bellingham Bed and Breakfast is between 3 pm and 6 pm, heading out along Chuckanut Drive is the perfect way to make a full day of travel part of the fun! One of the best first stops is the small town of Bow/Edison, a small bright spot along the road for farm stands, galleries, and local shops. If you're ready for a snack or a beverage, pop by the Terramar Brewing and Distillery for artisan pizza and creative craft cocktails.
Next up, head to the Chuckanut Drive outpost of the famed Taylor Shellfish—Samish Oyster Bar and Shellfish Market. As you can see from the picture below, the indoor and outdoor seating options have some fantastic views of Chuckanut Mountain and the waterways. Order up a large tray of freshly shucked oysters, shrimp cocktail, and local beer and wine offerings. The market is always stocked with fresh seafood to take to-go as well.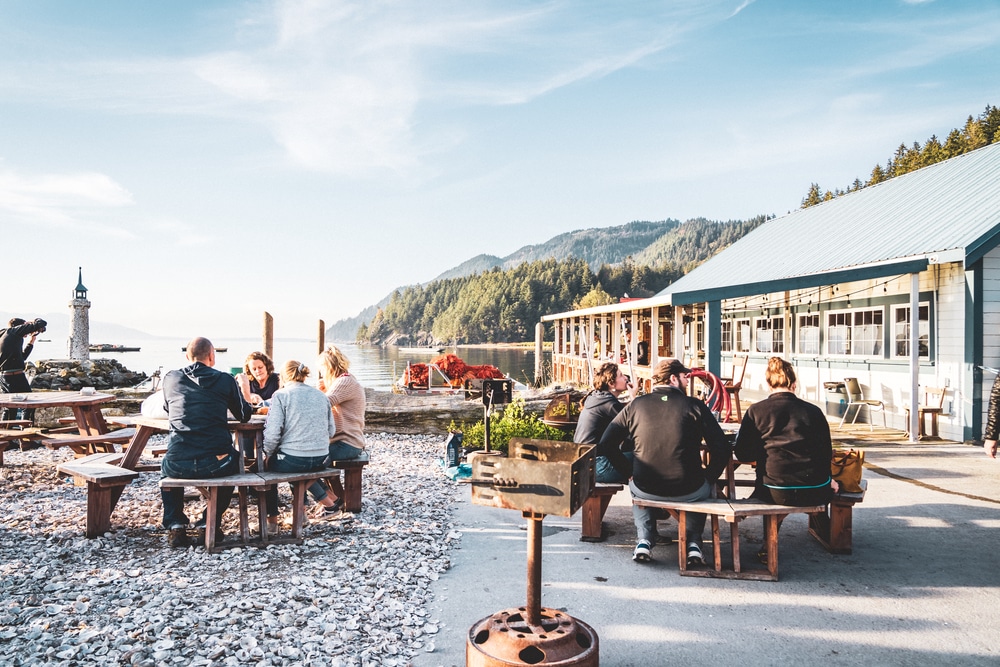 Another popular stop off Chuckanut Drive, at about the halfway point to our Bellingham Bed and Breakfast, is Larrabee State Park. Known as Washington's first state park, this is the perfect spot to stretch your legs from the drive either on a hike or tide-pooling down on the 8,000-foot saltwater shore. Keep your eyes and ears open for the Burlington Northern Santa Fe Railroad and Amtrak trains that run through about 16 times a day (including at night) on the Burlington Northern track along the beach.
After your adventure into nature, head up to the Historic Fairhaven District. Stroll down the cobblestone streets lined by restored 19th-century buildings, now home to local shops, galleries, cafes, and restaurants. One of our favorite stops is the Village Bookstore and Colophon Cafe. Peruse the classic wooden-floor store and book selections, and grab a slice of the famous peanut butter pie and a latte before retreating to our Bellingham Bed and Breakfast.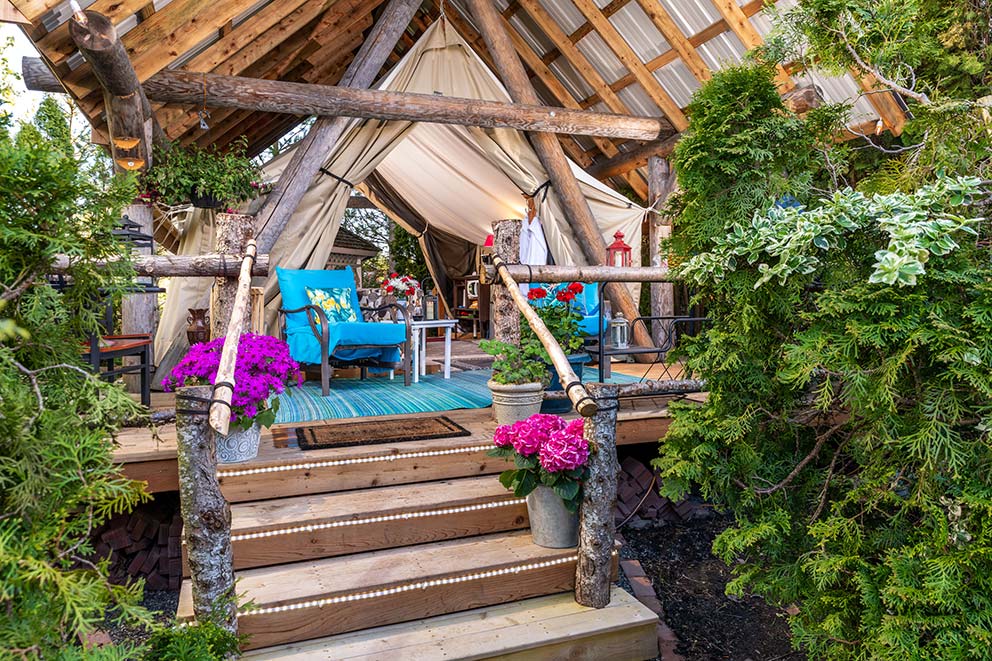 Glamping: The Perfect Mix of Rustic Meets Luxury
After you've taken in the beautiful views from Chuckanut Drive, our selection of lodging options will be awaiting your arrival. Whether you've booked one of our B&B suites, cottage rental, or our brand new glamping lodge, you'll be welcomed with open arms. The lodge has now hosted its first few guests, and the reviews are in: this space is perfect for a private, relaxing retreat with all of the perks of camping and none of the aches and pains from sleeping in a tent.
Head over to our availability calendar and reserve your stay today!