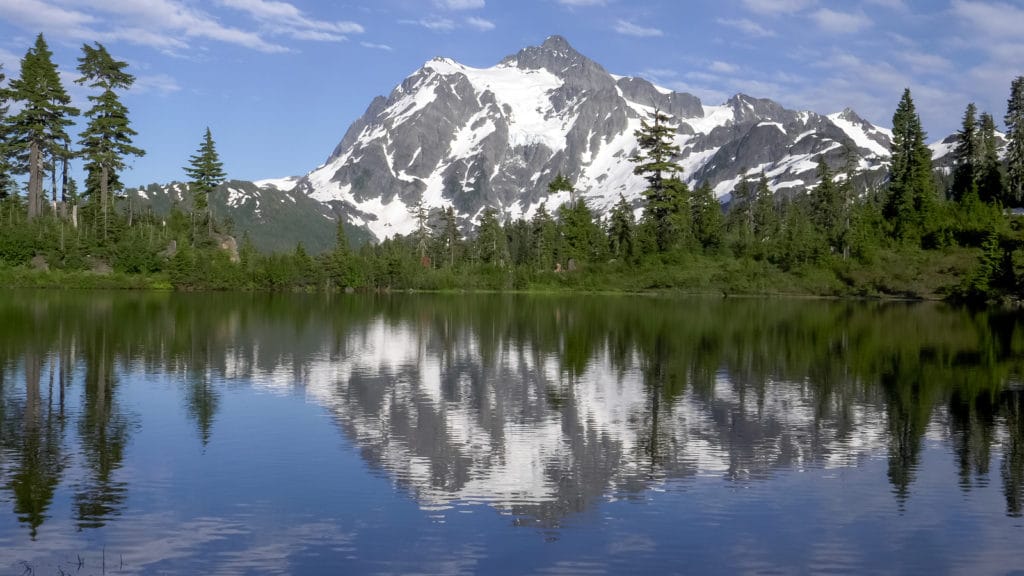 Hikes near Mt. Baker offer jaw-dropping views of towering mountains of over 9,000 feet tall, and because of this, the Mt. Baker area is jam-packed with world-class hiking that is an outdoor enthusiast's dream! This area is excellent in the summertime as trails are easily accessible and you can drive right up into the heart of the sub-alpine territory where you'll find many of the best hikes. Many trailheads begin up in the mountains so you can start a hike while already being in an alpine wonderland.
Our Bed and Breakfast is the perfect home base for your hikes near Mt. Baker. We are the closest luxury Inn to the Mt.Baker-Snoqualmie National Forest. After a day exploring majestic mountains, rivers, waterfalls, and forests, come back to your comfortable and cozy guest room full of amenities, all designed with you in mind.  Whether you're looking for a romantic getaway or a fun family weekend, this is the place to be.  Book your stay today!
Top 5 Best Hikes Near Mt. Baker
The immense volcano of Mt. Baker is best known as a winter destination due to the amount of snow the area gets each season and was made popular by the Mt. Baker Ski Area. However, summer hikes near Mt. Baker provide some of the best opportunities for outdoor recreation in the state of Washington. In the summer, Mt. Baker unveils itself as well as the surrounding impressive peaks, while fields of wildflowers in full bloom carpet the sides of mountains.
There is a seemingly endless amount of great hikes near Mt. Baker. From quick little excursions to all-day hikes near Mt. Baker, the variety of hiking here makes it an outdoor enthusiast's dream destination. We have narrowed down the list to our 5 favorite hikes near Mt. Baker.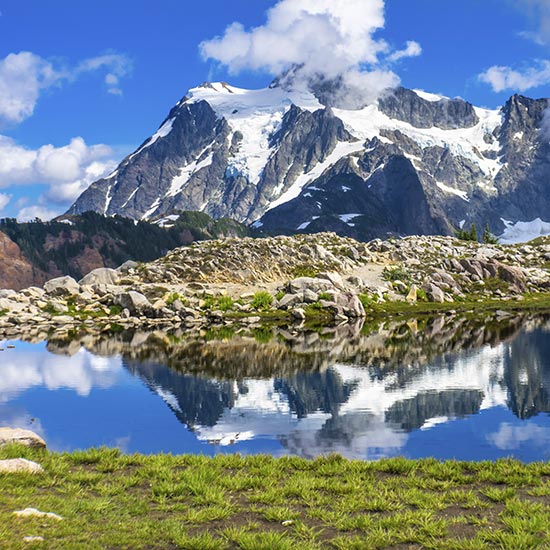 1. Beautiful Yellow Aster Butte is a 7.5 roundtrip hike that offers amazing wildflowers, hiking past tarns, and 360-degree mountain views at the top. Forests transform to meadows on the ascent of this challenging hike. As it goes for many hikes near Mt. Baker, the reward is well worth the effort put in. When you reach the top views of Canada and the border peaks to the north can be seen. Mount Shuksan and Mount Baker can be seen from this vista. You'll park along the road as there is no parking lot for this hike.
2. Oyster Dome Trail is a moderate day hike south of Bellingham in the Chuckanut Mountains. This 5-mile round trip hike goes through a second-growth forest that was largely logged in the early 20th century.  The trailhead is just off of Chuckanut Drive in the Samish overlook parking area. The top will open up and views of the Puget Sound stretch out in front as you see an expansive western view of the Olympic Mountains. A junction with the Talus trail leads you to a bat cave viewing area. Definitely unique for hikes near Mt. Baker! This area can be hazardous so its best to enjoy seeing them from a distance.
3. Table Top Mountain is a short hike but is the mightiest of all the hikes near Mt. Baker. It is only 2.6 miles round trip but is steep! This little trail tops out at 5,700 feet and offers the most incredible views of the North Cascade Mountains. 360-degree views surround you at the summit and rising above the peaks are Mount Shuksan and Mount Baker.  If you have a fear of heights this may not be the hike for you as this trail is exposed at times. But if you can overcome your fear this hike is well worth it!
4. The Chain Lakes Loop is 6.5 miles round trip with 1,800 feet of elevation gain. This is the perfect combination for a day hike. This trail has it all for hikes near Mt. Baker. You'll walk through idyllic grassy meadows with heather plants and blueberry bushes. The trail then leads you through talus slopes to amazing mountain vistas. If you need to cool off there are plenty of stunning alpine lakes along the way to take a dip in. The top gives you views of Shuksan, Baker, and the North Cascades while valleys and meadows spread out below you.
5. The Ptarmigan Ridge Trail is an excellent choice if you want to put a little more miles into your day. About 10 miles round trip this trail definitely gets you one of the best views of all the hikes near Mt. Baker. You'll start out at the Chain Lakes Loop Trail and at 1.1 miles at the junction, follow the Ptarmigan Ridge Trail sign. The trail up is lined with lupines and other mountain wildflowers along with blueberries, in the right season, to snack on along the way. At your destination, you will be stunningly close to the east side of Mount Baker. Be on the lookout for mountain goats that frequent the area as well. There will be no shortage of photo opportunities up here!
The Best Lodging Near Mt. Baker
After a day of adventure and exploring hikes near Mt. Baker you'll need a comfortable and luxurious place to rest your tired feet and rejuvenate for the next day's hike! Unwind in one of our cozy guest rooms ready to greet you at the end of the day. Our 500 ct beds will have you sleeping like a baby and in the morning fuel up for the day with our home-cooked breakfast. Coffee, tea, hot chocolate, and snacks are available in the library. If you are looking for the ultimate "mini-resort" vacation book your stay with us today!