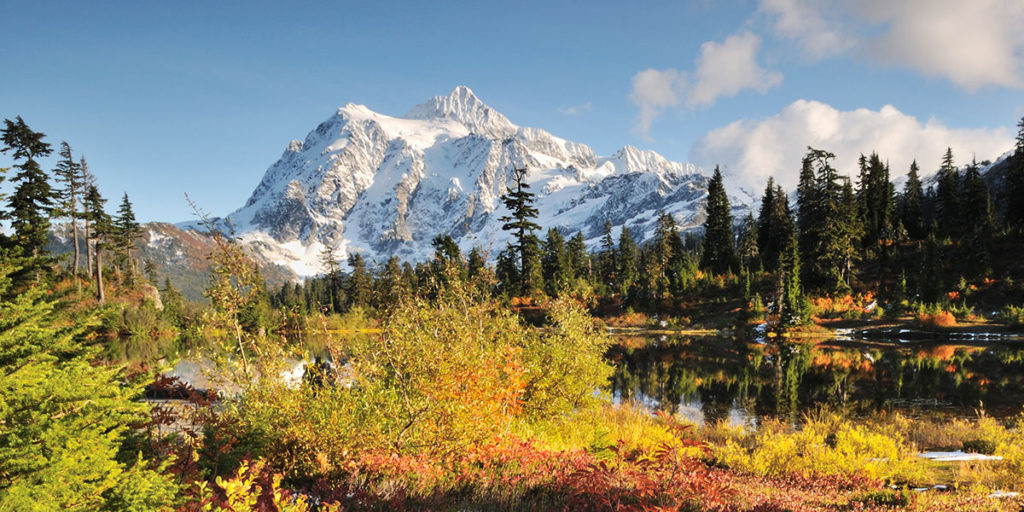 Heather Meadows is a majestic landscape that offers expansive views of both Mt. Baker and Mt. Shuksan. Located near the eastern end of the Mt. Baker Scenic Highway this mountain wonderland is full of wildflowers, meadows, waterfalls, and if you're lucky enough to find some, alpine blueberries. In exploring this area you'll learn the history of this unique area, stretch your legs on a couple of hikes, and get world-class views of this incredible place.
You are sure to feel invigorated but a bit tired after a day spent up at Heather Meadows. Rest up for the next day's adventure at our Bellingham bed and breakfast. Use our inn as a basecamp for all your adventures in the Mt. Baker area. Our serene getaway is the closest bed and breakfast to the Mt. Baker-Snoqualmie National Forest with luxury accommodations waiting for you at the end of the day. If you are looking to unwind in ultimate comfort book your stay today! 
Ways to Explore Heather Meadows
The Mt. Baker area is well known for jaw-dropping vistas, fields of alpine wildflowers, and crystal clear lakes. A great place to start off your adventures in this breathtaking place is to explore the Heather Meadows area. Near the end of the Mt. Baker Scenic Highway, you'll arrive at Austin Pass. From there choose your own adventure! There are many options of which to choose from but these our favorite 3 ways to explore Heather Meadows.
A stop at the historical Heather Meadows Visitor Center will provide hiking options and trail conditions for the day. Learn the cultural history of the Mt. Baker and Heather Meadows area. The Civilian Conservation Corps built the center in 1940 for a warming hut during ski season. The careful craftsmanship in the building and trail lookouts can still be seen and appreciated today.
Heather Meadows is a launch point for many great hikes of all abilities and interests. Interpretive walks, like the Fire and Ice Trail, provide information. The various viewpoints offer insight into the geology of the area. This is a nice loop that starts and finishes right from the visitor center. Another fantastic hike is the Bagley Lakes Trail. This short walk travels .75 of a mile one way along the lakeshore. Table Mountain and Mt. Herman tower above the lake. Waterfalls, wildflowers, and, in fall, autumn colors dot the landscape. If you are wanting a longer hike you can form a 2-mile loop to the Chain Lakes or Wild Goose Trails.
Feeling hungry after a hike? Want a delicious picnic lunch to take with you while you explore? The Heather Meadows Cafe is located in the Heather Meadows day lodge. Stop in for lunch or a snack. The cafe has partnered up with local farms and companies to offer fresh ingredients to help fuel you up for a day of adventure. Great for a takeout picnic or enjoy the views from inside the lodge as you enjoy a meal.

More Great Areas to Explore on Mt. Baker
When it comes to exploring Mt. Baker, Heather Meadows is just the tip of the iceberg. After a day getting acquainted with the area check out these other great spots not to be missed!
Artist Point is a short drive from Heather Meadows. This world-class spot is located st the end of the Mt. Baker Highway and boasts 360-degree views of surrounding mountains including Mt. Shuksan and Mt. Baker. There are a variety of trailheads here such as Chain Lakes, Ptarmigan Ridge, and Table Mountain Trail.
On the way up to Artist Point stop by Picture Lake. This is one of the most photographed vistas in America.  A backdrop of Mt. Shuksan makes this spot ideal for, well, pictures! There is a short interpretive trail along the way good for all skill levels.
Nooksack Falls on the Northfork of the Nooksack River includes a short trail to a waterfall viewing area.
Boyd Creek is a short self-guided nature trail focused on education of what a healthy fish habitat looks like.
The Glacier Public Service Center along the Mt. Baker Scenic Byway is another building built by the CCCs in 1938. Here you can get information about trails, have a picnic, and look through the gift shop.
The Perfect Place to Getaway
Adventuring around the Mt. Baker area all-day is a memorable experience but you'll need a place to rest up and rejuvenate. At Sundara West Bed and Breakfast you'll be able to relax in ultimate comfort in your private guest room that includes a private bath, seating area, and gorgeous views out your window.
We serve home-style breakfasts such as Denver scrambled eggs with onion, pepper, and ham or lemon ricotta pancakes. We use local vendors whenever possible in order to serve up the best tasting freshest meal. Our Bellingham lodging is the best place to use as a basecamp for all your explorations of the area. If you want a casual and elegant place to escape to book your stay today!