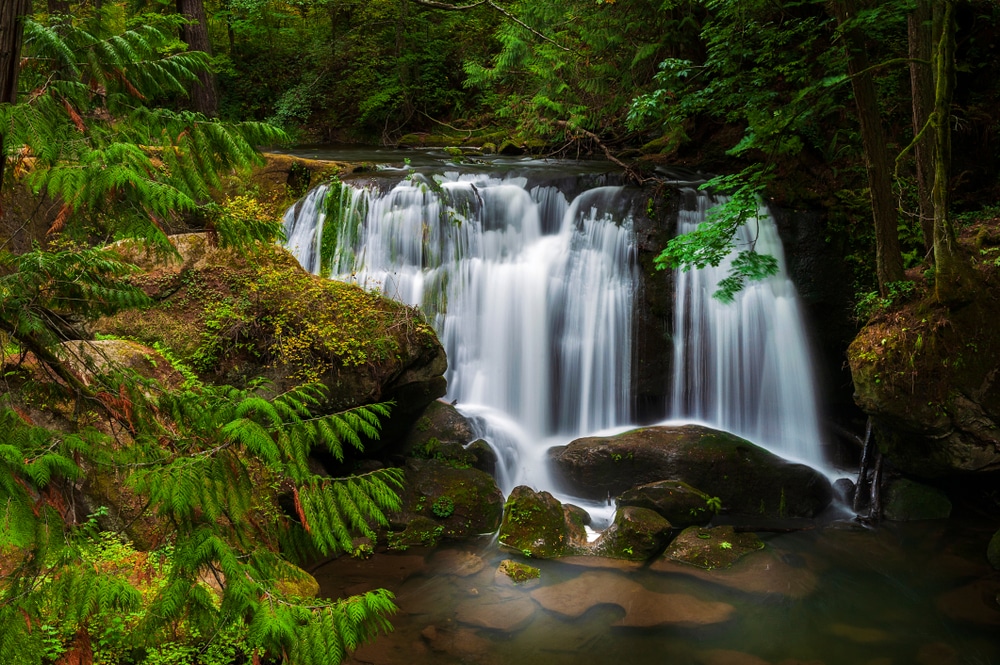 One of the most romantic outings in the Northwest is hiking out to the most beautiful waterfalls in Washington. Luckily, there are so many breathtaking sights in the northern part of the state—rushing waters, mossy rocks, and lush forests. You'll love the thrill of the hunt for these hidden gems. The trek is worth all the effort to feel the misty spray and hear the quiet sounds of peaceful nature all around you.
Thankfully, most of these waterfalls in Washington are less than an hour from our Mount Baker Bed and Breakfast. We happen to be the closest luxury lodging option to the stunning Mt. Baker-Snoqualmie National Forest and where you'll find a ton of hiking opportunities, outdoor recreation, and family-friendly activities within a quick drive.
The Sundara West B&B, located in the charming small town of Everson, WA, has three unique lodging options at our mini-resort. We have two luxury suites inside our Victorian-style Inn, a cottage rental with two bedrooms, and a brand-new glamping tent with all the bells and whistles. One of the best elements to your stay here is our indoor swimming pool, open all year long and the perfect place to relax after a long hike out to one of these waterfalls in Washington.
Start planning your next adventure and book your stay today!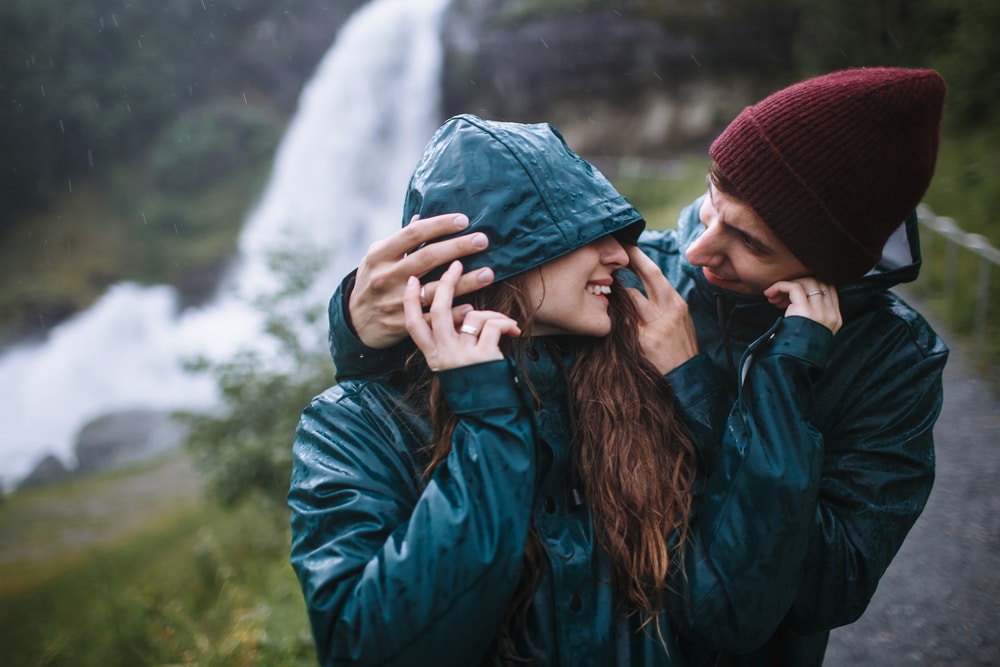 Hikes at the Best Waterfalls in Washington
Heading out to hike to these waterfalls in Washington is a memorable and exciting adventure to add to your magical journey through the Northwest. Here are some of the best places to find these treasures in the woods close to our Mount Baker Bed and Breakfast.
Whatcom Falls: This waterfall is located within the 241-acre park in Bellingham. You'll find four sets of pretty waterfalls along the Whatcom river and several miles of easily accessible walking trails.
Mazama Falls: Some argue that this is one of the best waterfalls in Washington, located in the Mount Baker National Forest. The grouping of falls spans seven tiers from Wells Creek. Hiking to this waterfall is not recommended due to difficulty, but it's still impressive from afar.
Franklin Falls: Follow along on the south fork of the Snoqualmie River for lovely views of the pooling water, leading to the 70-foot Franklin Falls. This is an excellent hike for families on the hunt for waterfalls in Washington.
Lake 22 Trail: You'll meander through old-growth forests and by an alpine lake on this moderate hike in the Mt. Baker Snoqualmie National Forest. Along the way, you'll catch sight of some pretty waterfalls and the stunning mountain views of Mount Pilchuck.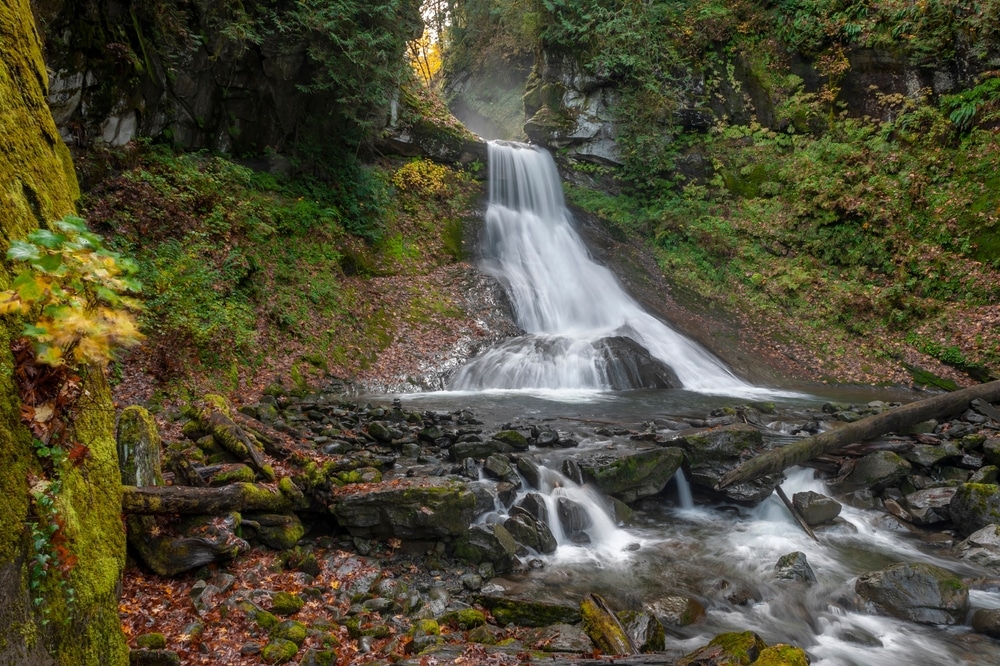 Racehorse Falls: For an easy out and back half-mile hike to stunning falls (pictured above), the scenic Racehorse Falls is the best choice. And it's only about 30 minutes from our B&B!
Clayton Beach Waterfalls: You'll find these falls on the hike to Clayton Beach, just off Chuckanut Drive. The beach area is currently closed to the public, but the trail is relatively easy and scenic.
Nooksack Falls: There's easy access to this spectacular set of waterfalls in Washington. You'll take a short forest road of the Mount Baker Highway, park, and you can view the falls from there. Avid hikers suggest making this the first stop before heading on to a more substantial hike in the woods.
Chuckanut Falls: Located in Larabee State Park, it's just a short hike to this pleasant waterfall. There's a viewpoint with a small bench to take a break and watch the rushing water.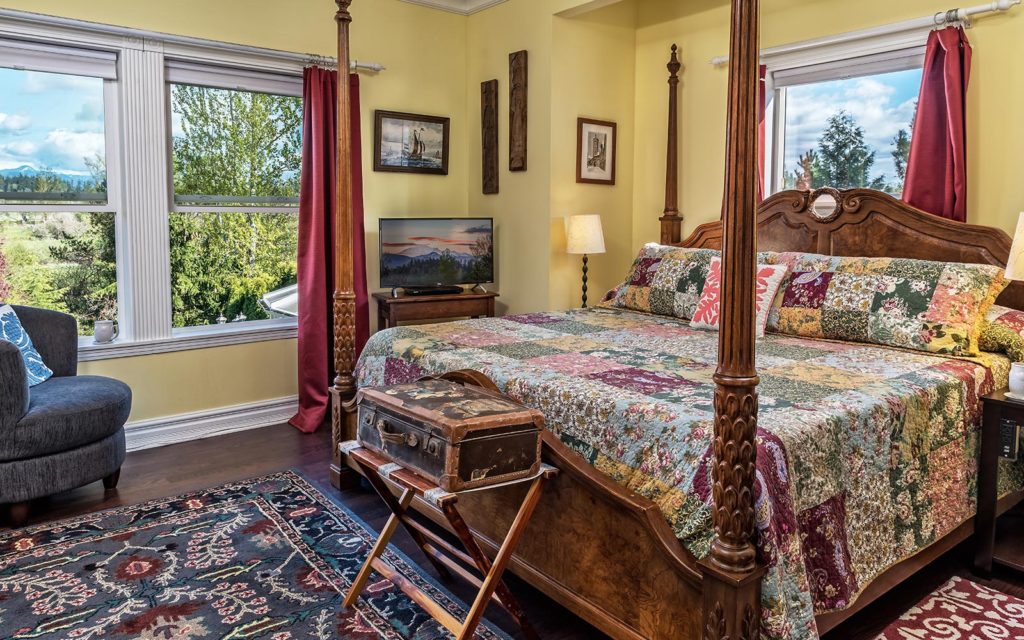 Perfect Lodging Options for Outdoor Lovers
Our Mount Baker Bed and Breakfast, rental cabin, and glamping tent are the ideal basecamp for enjoying Mount Baker, the North Cascades National Park, Bellingham, and the North Puget Sound, especially for those hoping to catch a glimpse of these beautiful waterfalls in Washington. You can spend the days outdoors exploring and the evenings in the comfort of our warm and cozy Inn. For our B&B guests, we offer a complimentary breakfast each morning with seasonal recipes and local ingredients. We can't wait to host you!
Get your next vacation to Washington on the calendar and book your lodging today!