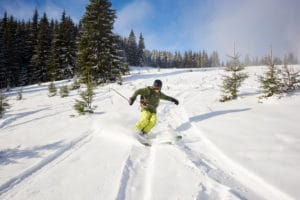 There are several wonderful places to ski in Washington, Oregon, and our neighbors to the north in Canada. But, if you haven't yet had the chance to visit the sensational Mt Baker Ski Area, 2020 could well be your year to do exactly that. The Mt Baker Ski Area is just under 3 hours from downtown Seattle, which makes it a long day of skiing and traveling if you're just coming for the day. To make the most out of your time, why not spend a night in our comfortable Bed and Breakfast, located only an hour from the Mt Baker-Snoqualmie National Forest and Ski Area?
Our Bed and Breakfast, located just outside the town of Everson WA and only 15 minutes from Bellingham, is the perfect place to warm up, relax, and fuel up for a full day in the mountains. We're the closest luxury Inn to the mountains, and therefore the perfect basecamp from which to plan your adventures in the snow this winter. Come visit the Mt Baker Ski Area this winter, and add a stay at our luxury Bed and Breakfast.  Book your room today!
A Day at the Mt Baker Ski Area
The Mt Baker Ski Area is one of the best ski resorts in the state of Washington. It's located about 90 minutes east of Bellingham, in the northwestern part of the state. The base elevation of the Mt Baker Ski Area sits at an elevation of 3,500 feet, while the summit soars to 5,089 feet. This ski area is known to have the deepest ski base in the entirety of North America, which is in part what draws skiers and snowboarders to this incredible mountain year after year.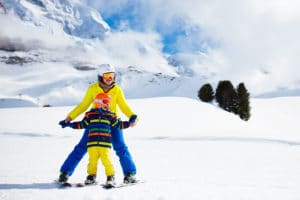 There are two different ski base areas at the Mt Baker Ski Area; White Salmon Base Area and Heather Meadows Base Area. Though the ski runs range in difficulty in both areas, Heather Meadows is definitely the place to go if you're newer to skiing and/or skiing with younger kids. Both areas have lodging and food options for those times when you need a break from the mountain.
There are also a number of events held at the Mt Baker Ski Area each year, including the Legendary Banked Slalom for Snowboarders in February.  This year's Banked Slalom will take place from February 7 – 9, 2020. The event is so popular that entry into it is now determined by lottery. An incredible 385 racers from around the world take to the slopes each day. The event has been held on Mt Baker since 1985 and is regarded as the predecessor to other major snowboarding events. Some of the biggest names in snowboarding history have participated in and won this event.
If you don't feel like making the drive all the way up the mountain yourself, you can catch a ride on the Baker Bus. The closest scheduled stop to our Inn is at the Mt Baker Visitor Center in Maple Falls.
The Best Lodging Near Mt Baker
Though our location near the Mt Baker Ski Area alone makes us a great choice for lodging, there are more reasons to choose our luxury Bed and Breakfast.  Our accommodations are both family and pet-friendly, which means your entire family can come for a few days and play together in the Mt Baker area. Our guest rooms are unique and luxurious, and the perfect place to sink into comfort at the end of a long day on the mountains.
We also offer a separate cottage for rent, which offers a truly unique experience. It comes equipped with spacious privacy and a full kitchen. Apart from daily breakfast, you'll enjoy the same amenities at the Inn as the other guest rooms, too!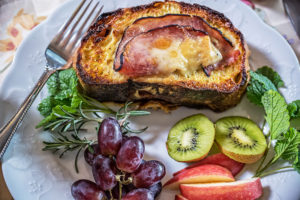 Speaking of amenities, our deluxe amenities include luxurious 500 thread-count bedding, beverages and snacks throughout the day, wireless internet, a TV and DVD player in each room, plush robes for your use while here, a hot tub to soak your tired muscles, and a library packed with games, cards, books, and guides. Beyond that, you'll wake up each morning of your stay to the smells of a delicious breakfast made right here in our kitchen, using fresh local and organic ingredients whenever possible.
It's the little things that make a stay at our Bed and Breakfast special. Come spend a few days with us, and discover your new home away from home when you want to ski the Mt Baker Ski Area. Book your room today!