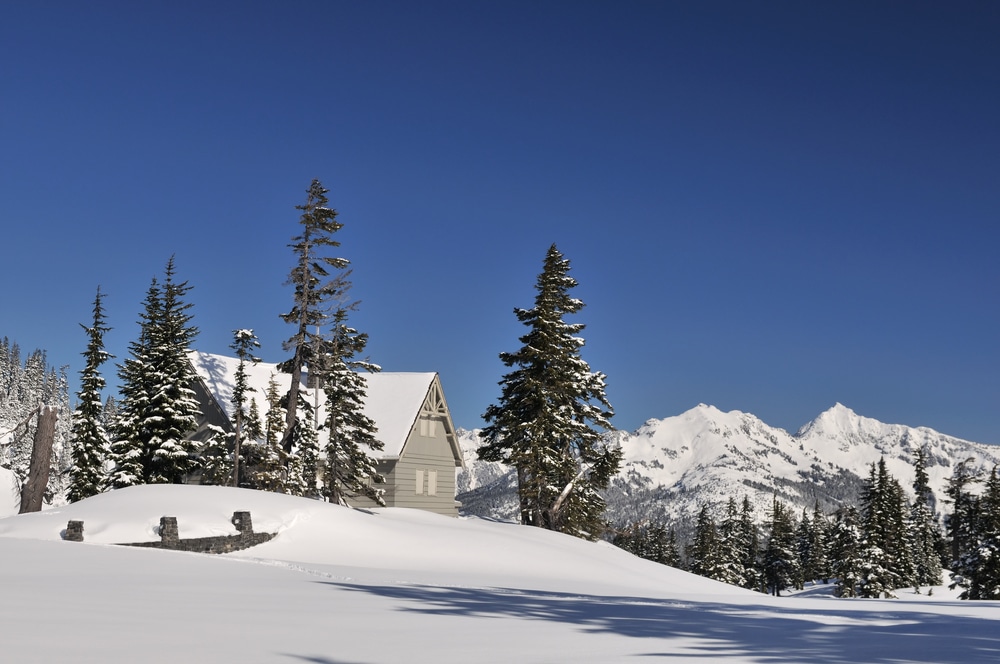 Mount Baker is known for its rugged and picturesque setting, and the ski conditions are some of the most memorable for beginners and experienced skiers alike. The ski resort is split into two bases: the Heather Meadows and White Salmon. The area is popular among extreme sports enthusiasts, mainly because of the backcountry opportunities, which can be accessed by lifts. In addition, numerous routes are available for skiers and snowboarders of all skill levels, as well as lessons and family-friendly runs.
The Mount Baker Ski Area, situated in the picturesque Mt. Baker-Snoqualmie National Forest, is an excellent spot for winter recreation. It receives an average annual snowfall of nearly 700 inches, some of the highest in the world. The area also still holds an impressive record to note, during the 1998-99 season, the Mount Baker Ski Area received an extraordinary 1,140 inches of snow, the most ever recorded in a single year.
While there are a lot of Airbnb rentals near Heather Meadows at the Mount Baker ski area, our bed and breakfast near Bellingham stands out for our unique amenities, lodging accommodations, and welcoming hospitality. Our year-round indoor pool area is second to none and the perfect place to wind down after a day on the slopes. We have hot tubs, too, to rest those tired muscles. Start planning your next ski adventure in the Northwest, and book your lodging today!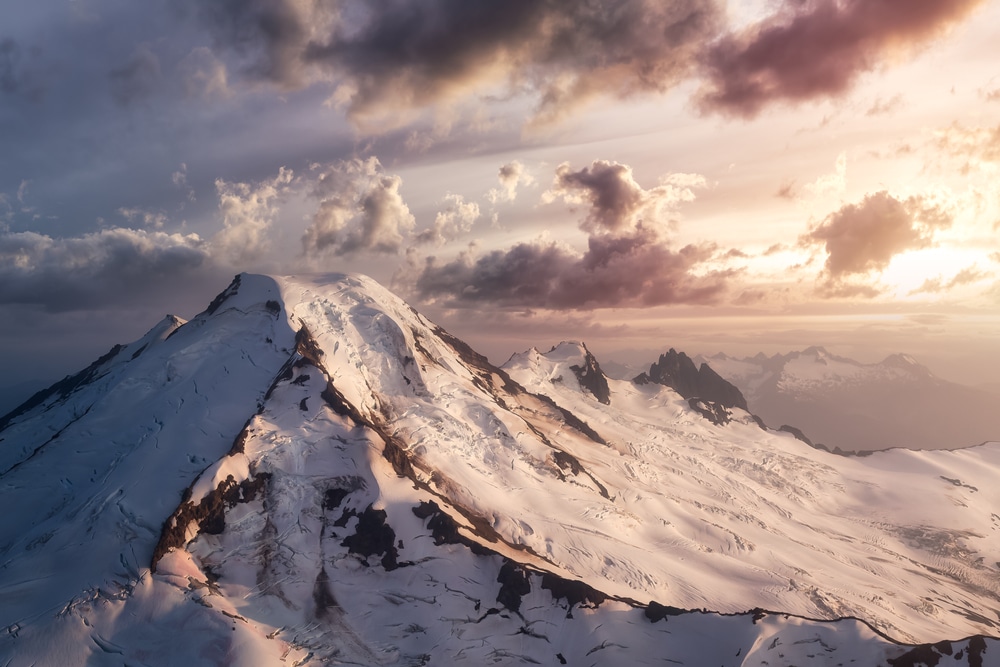 Head to Heather Meadows at the Mount Baker Ski Area
The Heather Meadows and White Salmon Bases at the Mount Baker Ski area offer 1000 acres of skiable terrain. From early December to early spring, the Mount Baker Ski Area season opens, weather permitting, and one thing's for sure: the powder is some of the freshest and deepest in the country.
Here are the best things to know about the Heather Meadows and While Salmon Ski areas before you go:
The Heather Meadows (4,300 feet elevation) and White Salmon Base (3,500 feet elevation) comprise the Mount Baker Ski areas. There are two beautiful peaks, Mount Baker and Mount Shuksan, with eight quad chairlifts servicing the regions and two handle tows. There are nearly 40 designated trails to explore! Head here to purchase lift tickets for the 2023/2024 season.
The Heather Meadows Base Area serves as the hub for Mount Baker. Pop by the Heather Meadows Day Lodge; friendly staff members are eager to get you out on the slopes. Heather Meadows services skiing and snowboarding on the Panorama Dome side.
The White Salmon Base Area serves as the Mount Shuksan starting point. When you're up on Mount Shuksan, take a moment to enjoy the magnificent views—this unique vantage point immerses you in the stunning surroundings with untouched snow and the complete quiet of nature all around you.
When you take a break from skiing or snowboarding, you can head to either base area at Mount Baker Ski Area and find day lodges with hot meals, warm drinks, and cozy fireplaces. The White Salmon Lodge currently offers tasty deli food, while the ski-in-only Raven Hut serves build-your-own grain bowls – the perfect meal for fueling up.
If you're an intermediate or advanced skier, you might want to explore the backcountry with Mt. Baker Mountain Guides. Thanks to its fantastic and record amounts of snowfall, this area is known for its extreme backcountry options. The guides offer custom and scheduled tours that last about six to eight hours daily. Going on a tour with these experienced guides will surely be one of the most unforgettable experiences of your life!
If you or any of your family members are new to snow sports or want to improve your skills, the Mount Baker Ski Area provides a variety of beginner and family-friendly lessons. These group lessons come with rental equipment and beginner chairlift tickets and are perfect for those just starting. Private lessons are also available for individuals or small groups of up to five people.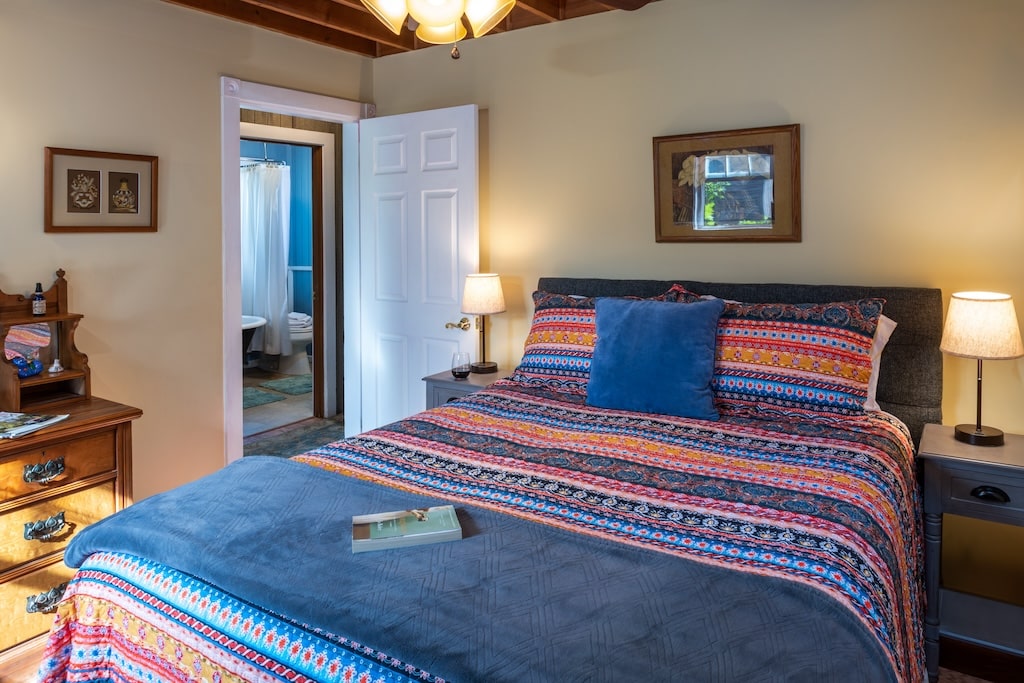 The Best Bed and Breakfast near Bellingham for your Lodging
Our Bed and Breakfast near Bellingham is nestled in the charming small town of Everson, WA. As you arrive, you'll feel a world away from the hustle and bustle and take a deep breath of the fresh Northwest air. We are located just over an hour from Heather Meadows at the Mount Baker ski resort—a scenic drive and a the perfect amount of cool-down time after hitting the slopes all day!
We offer various lodging options at our luxurious bed and breakfast near Bellingham. If you're traveling with two, you'll love settling into our jewel box B&B suites curated for romantic getaways and spending quality one-on-one time together. For those staying in one of these two immaculate suites, you'll be treated to a lovely home-cooked breakfast with seasonal and local ingredients whenever possible.
Families and small groups traveling together will love our rental cottage lodging accommodation. The spacious three-bedroom detached cabin is designed with comfort and relaxation in mind—a fully equipped kitchen makes meal prep a breeze pre or post-skiing adventures on the mountain. For those wanting to experience glamping in Washington, we also have a glamping lodge with everything you need to "camp" in style. We can't wait to host you at our bed and breakfast near Bellingham; make a reservation today!