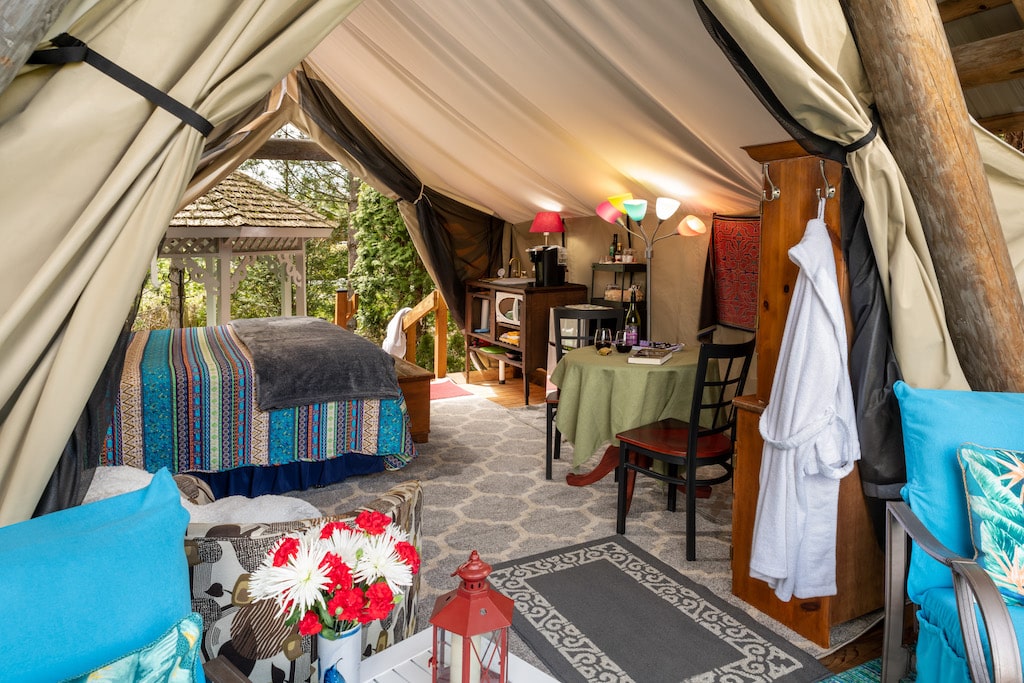 If you love the idea of sleeping under the stars, but traditional camping is not for you, then you should consider glamping in Washington! Luckily, our new safari-style lodge is the perfect place to try this trend out. You can indulge in the luxurious camping experience with complete privacy at our secluded oasis near Mount Baker, surrounded by lush woods and meadows.
Enjoy peaceful and tranquil evenings with the sound of a distant train and the wind in the trees, and wake up to the soothing cooing of doves and breathtaking sunrises. You'll have everything you need for a restful experience, including a big, comfortable bed, a private hot tub under a gazebo, a gas log fireplace, a large deck with a gas grill and all the barbeque utensils needed, and cast iron pots.
The open-air tent can be closed in the evenings—though you won't see other guests unless you want to. Our mini resort is also home to a two-room bed and breakfast, a private multi-room cottage, and an impressive pool area for all visitors. We're also in the perfect location for those who enjoy outdoor recreation—the Mount Baker-Snoqualmie National Forest lies just to the east. Join us for glamping in Washington this summer and fall! Reserve your lodging today.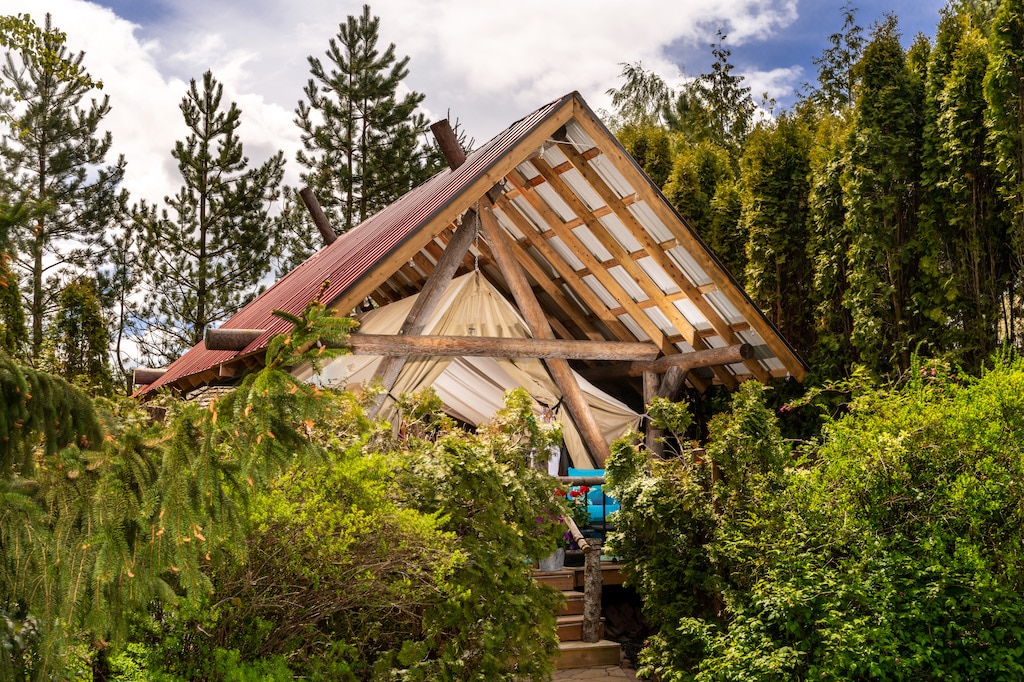 Glamping in Washington: A Private Space in the Woods
Our glamping lodge at Sundara West Bed and Breakfast has everything you need for a restful stay! Glamping in Washington has never been this easy.
We have a mini kitchen for your convenience, equipped with running water, a small fridge, microwave, coffee maker (including coffee, sugar, and creamers), and tableware with a table and chairs. We also have a gas grill with utensils and cast iron pans to cook a delicious breakfast or dinner.
If it's chilly outside, you can get cozy in front of the gas log stove. We also provide an electric fan and heater, a heated mattress pad, and plush throws to enhance comfort. After dinner, enjoy your complimentary bottle of wine in front of the fire, outside on the deck, and play games at the table. Glamping in Washington wouldn't be complete without a soak in the private hot tub, just off the back of our glamping lodge.
As part of our amenities for glamping in Washington, we offer a complimentary continental breakfast that may consist of muffins, breakfast cookies, locally made pastries, juice, fruit, and yogurt.
For guests staying in the tent, there is a pool bathroom just 40 steps away. To access it, simply enter the pool house through the back entrance. To ensure privacy, we require reservations for the pool. If you'd like to enjoy a fire, our fire pit is perfect for a night under the stars—we provide all the necessary ingredients for s'mores as well as firewood. For guests traveling with children, we have two sleeping mats and sleeping bags available for their use.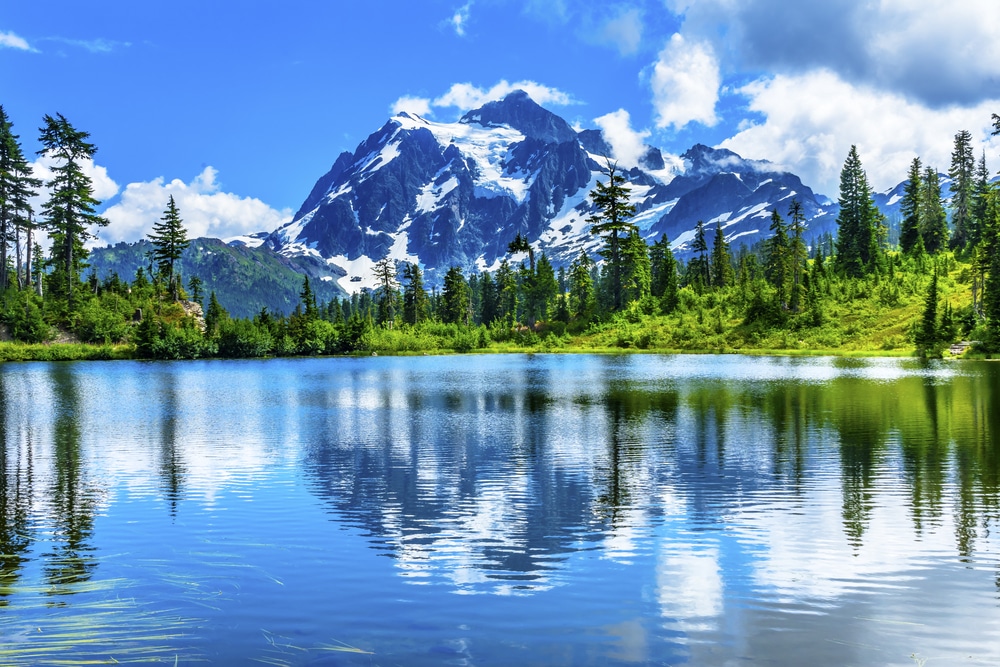 Things to do in the Mount Baker National Forest
Once settled in at Sudara West Bed and Breakfast, you can begin your glamping in Washington adventure. For most, that means heading out to explore the beauty and pristine wilderness of the Mount Baker National Forest. Of course, Mount Baker is a world-class skiing destination, but here are five warm-weather things to do nearby:
There's no better time than to try your hand at glamping in Washington! Join us at our beautiful resort to escape the hustle and bustle of the metropolitan areas and surround yourself with untouched wilderness. Make your reservation today!